The SOMASS Company was founded in 2003 from Mrs. Marietta Sohler. This is where the company name SOMASS (Sohler Marietta Smart Solutions) comes from.
Mrs. Sohler did work a few years as a technician for the major company software producer in the roll form section.
At first Mrs. Sohler worked alone as a "one-women-company". Mr. Christian Sohler as a master in the metal-work supported her in the evening and on the weekends.
Mr. Sohler installed also the quality management after ISO 9001:2000. In January 2016 we updated our Quality management after ISO 9001:2015.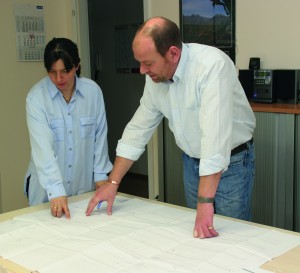 In the past years we had a lot of success.
With word-of mouth recommendation we´ve got more and more work. So we´ve got a good reputation in the roll form branch. Machine builder and profiler from the whole European market trust the experience and the quality from SOMASS.
After the work did increase so much, Mr. Sohler decided to join completely the company.
His job is the design work, the complete commercial sector and the quality Management.
Our big target is, also in difficult times, to give our customers an optimal quality for a fair price.
A high flexibility, trustiness and short decision making processes are the preferences from our office.